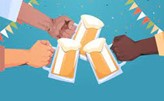 Bar is open to members and their guests unless posted.
Please check the calendar for dates that are open to the public.
Bar Hours

Monday – Thursday
11:00 – 7:00
Friday & Saturday
11:00 – 10:00
Tim Mahone 
812-422-5831
Please contact our bar manager for more information or questions.  You can contact by filling out the form or calling the number below.